Dit is misschien wel de eerste keer dat u ons tegenkomt en u denkt wellicht: "Wie zijn deze mensen? Wat doen ze met mijn data?". In deze pagina geven we antwoord op alle vragen die u als huurder en gebruiker kan hebben.
Een beter huurders-instapproces
Wij geven consumenten controle over hun data
Properize is gestart om het huurders-instapproces te verbeteren. Ons proces maakt het voor iedereen makkelijker en duurt slechts enkele minuten. Hierdoor hoeft u niet te wachten en kan u snel de sleutels van uw nieuwe huis in ontvangst kan nemen. En het is geheel gratis!
Wij beschermen uw gegevens en gebruiken geavanceerde beveiliging en encryptie algoritme binnen onze Amazon Web Services ("AWS") omgeving.
Inleiding tot Open Banking
Hoe krijgen we toegang tot uw bankgegevens?
De "Second Payment Services Directive" (PSD2) van 2018 is een Europese verordening gericht op het vergroten van consumentenrechten en het mogelijk maken van nieuwe manieren van samenwerken met banken. Hierdoor kunnen we, na toestemming van de rekeninghouder, toegang tot transactiegegevens krijgen via een beveiligde API koppeling direct met de bank. Lees meer over PSD2 op rijksoverheid.nl.
We hebben maar eenmalig toegang tot uw gegevens, waarbij we het gemiddelde maandinkomen verifiëren en vertellen vervolgens de makelaar of u de huurwoning kan betalen. Dat is alles! We zien uw inloggegevens niet en kunnen geen betalingen met uw rekening doen. Compleet veilig dus.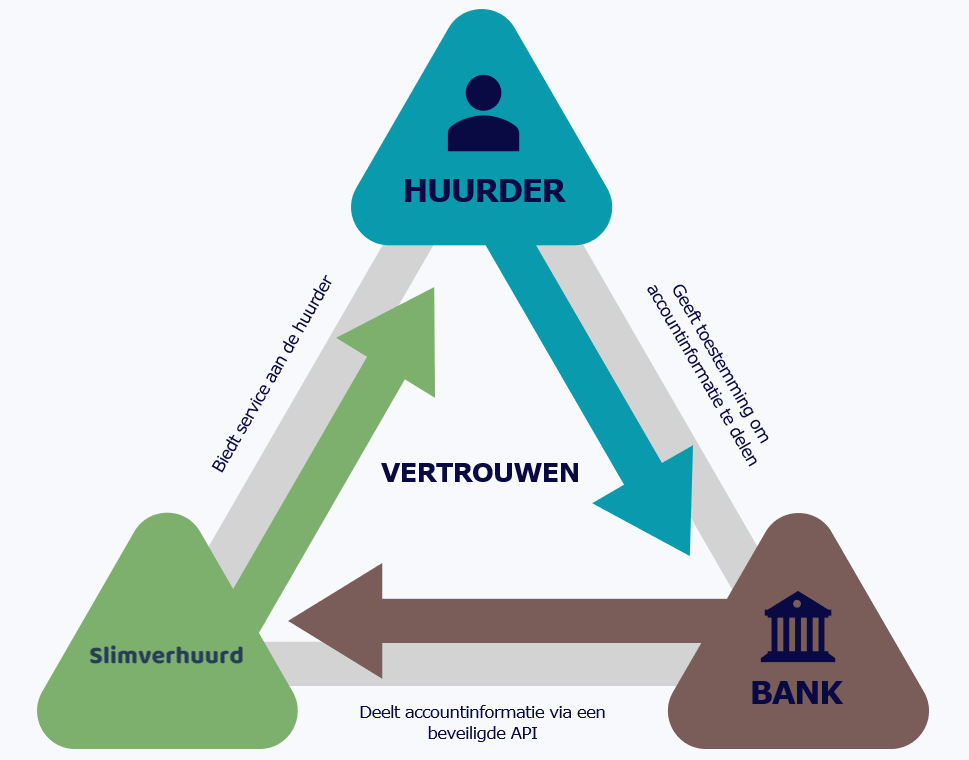 Inleiding tot zero-knowledge proof
Waarom is Properize eerlijker voor huurders dan andere methodes?
Wij maken gebruik van "zero-knowledge proof" (nul kennis-bewijs). Dit is een methode waarmee een externe partij zoals wij aan een andere (bijvoorbeeld een makelaar) kunnen bewijzen of iets waar of niet waar is zonder inhoudelijk informatie vrij te geven.
Waarom zou een makelaar uw exacte maandsalaris moeten weten of gevoelige documenten als loonstroken en belastingaangiften inzien? Dankzij onze slimme software is dit overbodig. Deze verifieert binnen enkele seconden uw gemiddelde inkomen. 
We zullen uw gegevens nooit verkopen of delen
We gaan verder dan de beperkingen die door de AVG worden opgelegd. We begrijpen dat eerlijkheid en juiste zakelijke praktijken de enige manier zijn om een lange-termijn bedrijfsmodel te creëren. Dit is onze belofte aan u als consument en daar zullen we ons altijd aan houden.